Virtual Reality Training – Wartsila Voyage & Viking Maritime Skills Academy Collaboration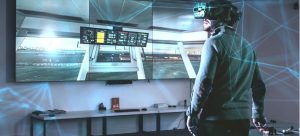 The Maritime Skills Academy and Wartsila Voyage have worked together to create a Virtual Reality solution to help prepare seafarers for the hugely complex modern ship environment and systems of today and tomorrow.
Taking your training to the next level, the MSA, in collaboration with Wartsila Voyage's award-winning cloud simulation solutions, can now provide cutting-edge learning software that helps deliver a high-level classroom learning experience. This training can take place at MSA Portsmouth or even remotely if required.
The Wartsila Smart Realities VR is a solution that goes beyond the standard joypad, controls and monitors, to provide a highly immersive and memorable training experience.
Combining mathematical, physical and environmental modelling with the latest in virtual and augmented reality, our solution places students on a virtual bridge or engine room to make training as close to reality as it can get.
It is a versatile platform that can be applied to almost all technologies in navigation, engineering, and other training fields — introducing an exciting new technique in modern seafarer training that appeals to all seafarers, whether it be highly experienced Officers, Junior Officers or future Cadets.
View the experience here: https://www.facebook.com/watch/?v=228006632298346
Capt Josip Kulas, Director of Training at MSA Portsmouth says: "We are excited and delighted to be offering the next level of training technology to seafarers. Smart Reality VR provides for a high level of learning engagement in combination with practice-based training, which emphasises impactful experiential learning. This can empower ship's Officers to learn safely without consequence to themselves or the business. It brings engagement to a whole new level, as learners can perform maritime tasks first hand in a much more realistic environment. It works to increase learner knowledge and the amount of information received and helps provide the ability to share training experiences with other people. We believe it makes education exciting, engaging and more comfortable all round."
Key benefits
• Virtual Reality solutions help prepare tomorrow's seafarers for a ship environment that is becoming increasingly varied and complex.
• Cost-effective and fully immersive XR solution so that officers can gain more training time on ship handling techniques.
• Combining today's technology with 25 years of experience in hi-fidelity hydrodynamical, mathematical and physical modelling.
• One platform that complements your existing simulator or can be applied even as a stand-alone solution.
• Use the same functionalities, exercises, models, and databases as your traditional simulator setup, just delivered via a hi-tech and more effective learning method.
• Exercises and scenarios created by MSA expert instructors.
• Tailored to any ship procedures using any ship model and port areas.
For more information contact Captain Josip Kulas on josipk@vikingmsa.com 
---
Sign Up For Updates, News & Event Invitations