Working at sea is a fantastic opportunity and it can be an extremely rewarding occupation – but for crew suffering from poor mental health it can be a very challenging time.
Mental health issues can be triggered by many aspects including poor conditions, long working hours, money worries and the loneliness which can come with spending long periods of time away from family and friends at home.
Viking Maritime Group are working closely with a variety of different companies and charities that specialise in the support and welfare of seafarers mental health and wellbeing around the world:
Positive psychology for the maritime industry
Isca Wellbeing provides mental health training and support solutions for seafarers, shipping companies and the maritime industry.
For further information, please visit the ISCA Maritime website https://www.isca-wellbeing.com/
Iswan for Seafarers App (24 hour support and resources for crew worldwide)

Instant access to 24-hour help and support:  Via the touch of a button in the app, seafarers can contact one of ISWAN's free, confidential, international helplines: SeafarerHelp (for all seafarers and their families) and Yacht Crew Help (for professional yacht crew).
Useful information and resources specifically for seafarers…including ISWAN's self-help health materials, access to ISWAN's Seafarer Centre Directory, and guidance on topics such as contract issues, abandonment, and bullying and harassment.
Latest news and articles: The app features a blog containing recent articles on seafarers' welfare-related news and topics, which can be refreshed when an internet connection is available.
Download the ISWAN for Seafarers app via Google Play or the App Store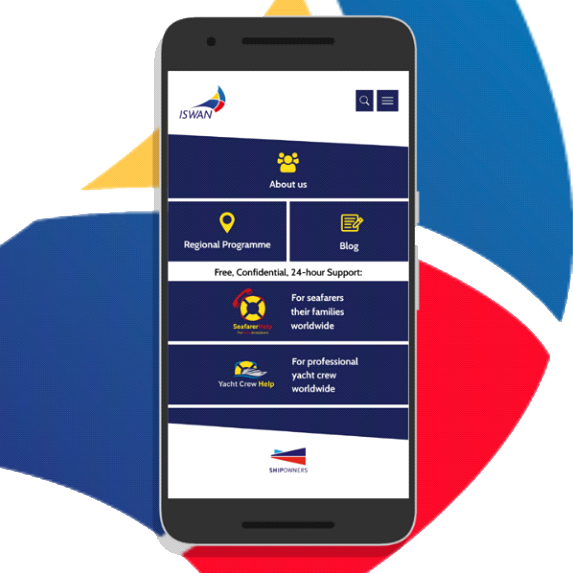 They also operate free, confidential, multilingual helplines for seafarers and their families, available 24 hours a day, 365 days per year.
Seafarer Help– A free, 24-hour, multilingual helpline for seafarers and their families
dial +44 20 7323 2737
email help@seafarerhelp.org
Yacht Crew Help- 24-hour support for professional yacht crew worldwide
dial +44 203 713 7273
email:help@yachtcrewhelp.org