Viking Maritime Group Supports Britannia Maritime Aid at COP26
The Viking Maritime Group Chairman and Founder, Dieter Jaenicke recently returned from COP26, the 2021 United Nations climate change conference in Glasgow.
For nearly three decades the UN has been bringing together almost every country on earth for global climate summits – called COPs – which stands for 'Conference of the Parties'. In that time climate change has gone from being a fringe issue to a global priority.
World leaders arrived in Scotland for the 26th United Nations Climate Change Conference, alongside tens of thousands of negotiators, government representatives, businesses and citizens.
Dieter attended the event as a representative of the Britannia Maritime Aid, a registered charity which aims to deliver emergency aid and ocean advocacy, while also helping to train the next generation of British and Commonwealth seafarers.
The BMA intend to operate a British-built merchant ship, manned by UK and Commonwealth seafarers, which will operate as a disaster relief platform and a sea training vessel for cadets, apprentices, and non-seafaring trainees.
It will provide an effective and regular means of directly delivering UK overseas humanitarian aid and skills training on a year-round basis to UK overseas territories communities in need, and when required, to provide direct, fast and cost-effective emergency response to disaster hit islands and coastal commonwealth countries.
COP26 was an amazing opportunity for the BMA team, supported by the Viking Maritime Group to showcase the superb 1:100 scale model of the BMA ship.
The detailed model allowed them to demonstrate the unique characteristics of the World's first dedicated HADR/Training Vessel and discuss how such ships could be built. The aim being, to effectively deploy the ships to Countries dealing with the increasing severe consequences of Climate change.
The Viking Maritime Group as a company were proud to be able to help facilitate the BMA's presence at the event by supplying the backdrop and pop ups for the BMA stand.
COP26 was the ideal platform for the BMA team to discuss their plans with dignitaries such as HRH The Princess Royal and Kitack Lim, the IMO Secretary General, along with many leading figures in the UK Maritime Industry.
During the event, Dieter was also fortunate enough to be able to attend the COP26 International Maritime Hub, hosted by the City of Glasgow College in association with Maritime UK.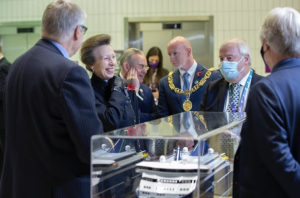 ---
Sign Up For Updates, News & Event Invitations