Viking Maritime Group named finalists in KEiBA awards 2021
The Viking Maritime Group were proud to have been selected as finalists in not one, but two categories in the prestigious Kent Excellence in Business Awards 2021
KEiBA is an awards scheme staged and produced by the KM Media Group and Kent County Council to recognise and reward excellence in businesses in Kent and Medway.
It is such an honour for the VMG to have been recognised in both the "Success in International Trade" & "Family Business of the Year" categories.
Both categories had extremely strong competition from other businesses and VMG are proud to be named alongside such prestigious businesses, such as Hornby, Shepherd Neame and GSE to name but a few.
It was a pleasure to welcome the KEiBA judges to our Dover office and showcase all we have to offer to the Maritime Industry, from our crew services to training to cadetships.
Making it to the final of the KEiBA awards in 2 categories is an accolade we as a team and a family are very proud of.
Congratulations to the Success in International Trade winners, Bigjigs Toys and the Family Business of the Year winners, Team HARD Racing Limited.
Pictured below is the Viking Maritime Group Managing Director, Matthew Jaenicke receiving the finalist awards, presented by judges, Darren Rigden and Nicola Scott from Crowe UK.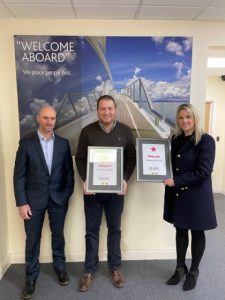 ---
Sign Up For Updates, News & Event Invitations