There was no messing about with this drill at MSA Dover!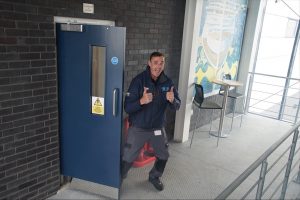 This is Sam Kelly from MSA Dover. Sam is an excellent instructor and seriously enthusiastic about getting the most out of every opportunity.
When the opportunity arose for him to run a mandatory drill for the training centre at MSA Dover he threw himself into it wholeheartedly, determined to give all delegates on-site an opportunity to get stuck in and practice what they were being taught.
Cue an excited phone call to me asking if my medical delegates wanted to be involved. Well of course I said Yes! Read on to find out what went down that day…
I bloody love a good drill. And this was no exception, in fact it was totally awesome!
Let me set the scene…There are courses running in security, fire, and medical. The scenario was that of an improvised explosive device that had been planted onboard a ship.
Security was alerted and began their search for said device. The device was detonated and caused a fire. There were missing people. The fire teams went in to conduct a search and rescue of the area and recovered 2 casualties initially, followed by a third later on.
So, at MSA Dover, we have a security course practicing proper security drills, a fire team practicing proper fire drills and a medical course drinking tea and eating biscuits (because that is what we love to do the most).
Boom!! Suddenly someone is banging on the window and yelling for help. Kit in hand they dash over to the designated safe area and establish the severity of their casualties. Eek! They are both pretty bad (the 3rd one hasn't made it out yet), one is dozy from a head injury and fractured leg and the other has multiple lacerations and is screaming in Russian continuously. Runaway…..ha ha ha ha I am only kidding, the medical course quickly split themselves into 2 teams and set to applying their assessment algorithms to accurately assess the casualties injuries, deal with the most life-threatening first and begin to think about the allocation of resources. Why has this come up I hear you ask??? Well, they only had access to one oxygen cylinder and both casualties needed it.
But oh no!! Nightmare!! A 3rd casualty is brought out and it is a child. The child is unresponsive and not breathing….guess what it needs? Yes! CPR and Oxygen.
So the upshot of this exercise was that when we pulled it all apart we realised a number of things:
Know your DRSCABCDE. Inside out and stick to it. It works for a really good reason.
Allocating roles within a team is crucial to a good outcome.
Knowing your kit and how it is laid out in the kit bag saves precious seconds when someone is bleeding out.
Communication. It doesn't work if you don't communicate.
Allocation of limited resources is a very hard process to go through. A decision has to be made about where the resources go and in these situations, you will never come away feeling good about it.
Loitering members of the public with camera phones pointed at you, recording every move you make, ready to upload to social media – seriously distracting, frustrating, and unpleasant in equal measures. Have a privacy plan.
And with those thoughts, I shall leave you with a short (albeit old) story of my own. It involves 3 casualties, on a dark but warm night somewhere in the UK, a lot of alcohol, multiple, relatively minor injuries, and a whole lot of basic kit getting used.
Picture this, it's a Friday night, I am in the ambulance with my opposite number and we get called to a nightclub (not at MSA Dover).
There has been an incident and the police are involved and have called for the ambulance due to multiple casualties. So, enter me and my crew mate looking all medical and feeling ready to tackle whatever we find. The first thing I noticed was the awesome 90's dance track playing, it helps if you strut onto a dance floor when attending to casualties…..in all seriousness though, drunk people are an absolute nightmare! It was like herding cats and trying to handle jelly. So we had the police trying to stop anymore fighting from taking place, we are trying to get through the crowds of drunk people to treat the casualties and dealing with multiple people advising on how it should be done. All slurring and staggering about.
So, let's revisit the lessons learned from the drill at MSA Dover:
Know your DRSCABCDE. Inside out and stick to it. It works for a really good reason. – We medical people love a checklist algorithm to follow and it never lets us down.
Allocating roles within a team is crucial to a good outcome. – There were 3 casualties. I was on triage duty and we had 3 x P3's. Does anyone remember what the triage categories mean? Anyway, it meant we could cope with the numbers even though there were only 2 of us.
Knowing your kit and how it is laid out in the kit bag saves precious seconds when someone is bleeding out. – in this instance we just needed some basic first aid kit, the stuff you would have in a Cat A kit, to stabilise some suspected fractures.
Communication. It doesn't work if you don't communicate. – We needed to communicate with each other, our patients, the police, the nightclub staff, the drunken revelers, and ambulance control. Phew. Hard work when House of Pain (awesome tune) is blaring out through the speakers. Our comms needed to be precise and concise.
Allocation of limited resources is a very hard process to go through. A decision has to be made about where the resources go and in these situations, you will never come away feeling good about it. – We were ok with resources this time, but I have been in situations where I am deciding who gets the only resource when many others also need it. Heartbreaking decisions.
Loitering members of the public with camera phones pointed at you, recording every move you make, ready to upload to social media – seriously distracting, frustrating, and unpleasant in equal measures. Have a privacy plan. – I loved the late 90's for no mobile phone camera device things. However, we did need to clear the area so that we could be safe ourselves and so that we could accurately assess the casualties. This comes with a lot of people who are all suddenly experts and want to give you advice on what to do. As I said earlier, it's like handling jelly…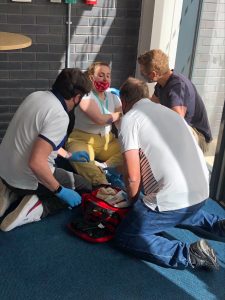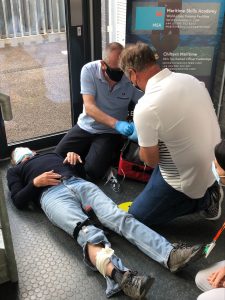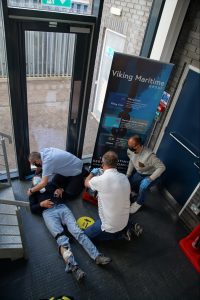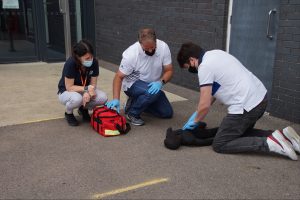 ---
Sign Up For Updates, News & Event Invitations