Partner Spotlight – The Exclusive Butler School
The Exclusive Butler School (EBS) is a training academy aiming to uphold the classic approach to the butler trade, with teaching students how to provide the highest levels of service lying at the heart of each and every one of their courses.
Led by an ex-royal butler and employing highly skilled trainers with in-depth knowledge, the school is the only one of its kind worldwide to be certified by an official training college (East Kent College), and thus the graduates leave with all the education, confidence and real-world skills they need to succeed in their fields with a distinct edge over their competitors.
These vocations can include private and potentially royal households, motor yachts, and hotels, and potential salary can start in the region of 20,000 per annum and then rise to an excess of 100,000 per annum for the highest level private butler positions, so unquestionably a lucrative and rewarding career and EBS's tailored coursed make an excellent investment in your future.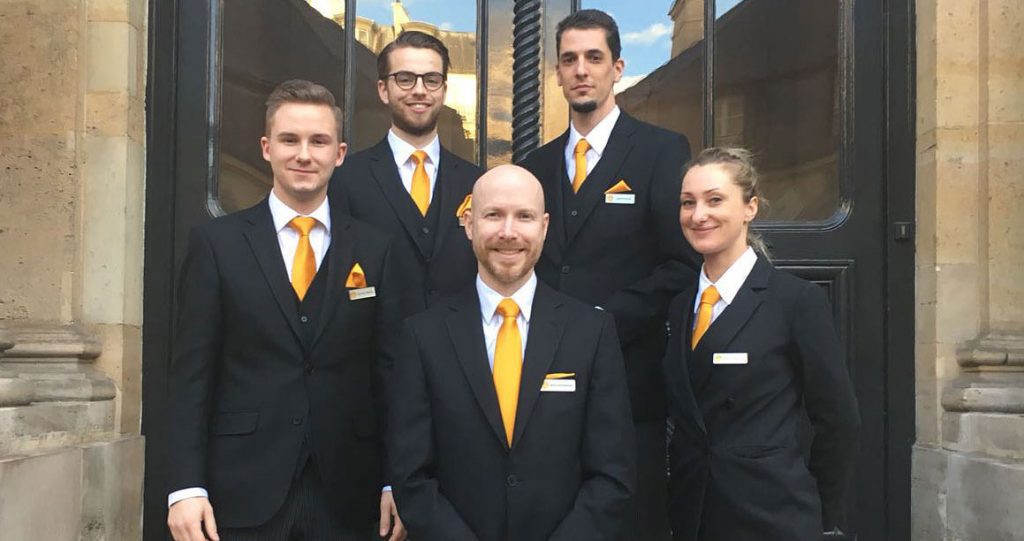 To better dedicate themselves to providing high-level training to future butlers, stewards, and stewardesses, EBS has partnered with the Maritime Skills Academy to design a course specifically selected to suit anyone wishing to go into service aboard superyachts, in luxury chalets and villas as well as in private estates.
This week-long course provides the best training for up-to-date skills, including elite housekeeping, wardrobe management, wine knowledge and service, mixology, table arrangement, silver service and organisation, and hosting of events.
So far this arrangement has had positive reviews, with graduates saying it is well-designed and helped improve their skills hugely, one particular previous student praised the programmes ability to give "a comprehensive picture in a very short time" (Rita P, course graduate).
After the week's programme, the top levels of training in this course allow students to graduate with confidence and real experience in this field that any recruitment agency would consider incredibly valuable, and EBS's partnering recruitment firms can help in making the next steps towards new horizons.
The course can also include an STCW which qualifies graduates to work onboard any motor yacht or cruise ship worldwide. For one week of time and £1,500(+VAT), this course provides a distinct edge over other possible applicants and prepares graduates to give the highest possible service throughout every aspect of their work, allowing them to advance and continue their success.
This is a fantastic opportunity to gain qualification and experience in an interesting and broad field.
This qualification could be the start of a brand-new career, honing previous skills in the hospitality business or a platform for incredible new opportunities, including traveling and learning new things from further abroad. The experience gained from this opportunity is immeasurable, and a true investment in your future.
To learn more and book courses, visit the Superyacht Steward Courses page on the Maritime Skills Academy and Exclusive Butler School websites, or get in touch with the Maritime Skills Academy today.
My opinion about the course is that it is a very well-structured course. Even though I have some experience in this industry I learnt a lot and improve my skills. I am very happy I could have some formal service experience and I could learn the basic of the silver service and butler service. The mixology and wine tasting was interesting, useful and fun too. I think in this case they could maybe ask the students what they would like to learn or practice more.

I would recommend this course because it gives a comprehensive picture in a very short time about the private yacht/household industry. You are very professional trainer Katy and super kind and helpful. Nice to learn from someone who is enthusiastic and dedicated for this area as you are.

Thank you again for everything.

Rita P, Course Graduate
---
Sign Up For Updates, News & Event Invitations