Viking Maritime Group's new Partnership with Cakeshop Media.
We are excited to announce that we have created a new partnership with Cakeshop Media who will be assisting us with SEO website support.
After meeting with Thom from Cakeshop Media, it was clear that they would be able to help optimise our websites through their services. The team will be managing our Google Ad campaigns and reviewing our websites from an SEO and content perspective.
"After consulting with Thom to understand our needs, it was great to take on the Cakeshop Media services. With their assistance we hope to further extend our online reach to seafarers around the world."
Mark Jaenicke, Training and Performance Director at the Maritime Skills Academy, Viking Maritime Group.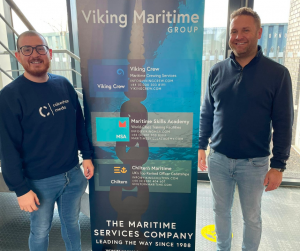 Cakeshop Media are based in Whitfield, Kent, UK, a local company to our HQ, Viking House. It is great to be able to support local business and we look forward to building new relationships and seeing the results of our new partnership.
Did you know that the Viking Maritime Group is made up of 3 businesses?
Viking Crew offers maritime crew services, including, crew placement, crew management and crew deployment.
Maritime Skills Academy provides maritime training services to seafarers. Setting new standards by delivering a higher level of deck and engine simulation, marine, fire and safety training.
Chiltern Maritime provides Merchant Navy officer cadetships.
To learn more about the Viking Maritime Group and the services we provide please visit https://www.vikingmaritime.co.uk/
---
Sign Up For Updates, News & Event Invitations